A Short Tour of North Rhine Westphalia
On October 13th, 2023 the German branch of Armstrong Siddeley had a small outing near Holzminden (North Rhine Westphalia) where the real Baron Munchhausen lived and told his tall tales (some of them have been turned into films).
Our hotel had a spectacular view across the River Weser. Moreover, they served really good food.
The weekend had been organised by Matthias Hubbert (one of the pictures shows his garage where a number of Siddeleys have been persuaded to grace the streets again.)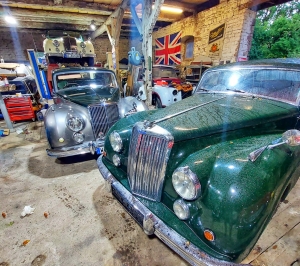 The group drove some lovely meandering roads through the hilly countryside near the River Weser. The weather was doing its best, so it turned into an unforgettable outing.
Everybody was really grateful to Matthias who had organised the tour and who had found all these lovely lanes – at times our cars were the only ones and you could almost believe a certain Doctor had put us into a time machine.
Gerrit Niederhaus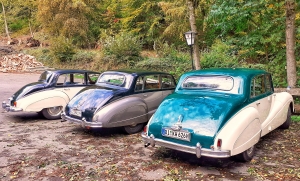 Posted in Events on the 17th November 2023 at 2:21pm.
Shop
Latest Posts
Categories
Archives
Feeds