Events
For details of locally arranged events members should contact their local area organiser, for all other information on events please contact Keith Dewhurst by email chair@siddeley.org.
All events are usually open to all members. Full event details can be found in the members area. It is not necessary to own an Armstrong Siddeley or to bring one to an event to join in.
National Day and Members' Weekend
The Armstrong Siddeley Owners Club holds an annual National Rally and Members Weekend, usually around the second weekend in July. Whilst some members chose to make a weekend of it, others will come just for the day on Sunday, when judging takes place and trophies and cups are awarded to the winners of the various classes. For those who come for the weekend, we usually organise a picturesque run through the local countryside, visiting one or two interesting venues along the route.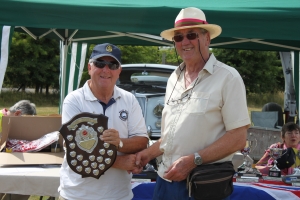 THE 2018 NATIONAL RALLY and AGM was held over the weekend of 6th - 8th. July and was located in the Hungerford Area. In addition to the main members day on the Sunday there was a Fun run around the beautiful Lambourne hills followed by a well attended AGM In the afternoon. The gala dinner on the Saturday night was held at the main rally hotel and the Sunday Members day concourse d'elegance was held in the local village of Kintbury. There was a great turn out of Siddeley cars with several cars not seen before at a National rally the weather was perfect and a great time was enjoyed by all. Full details of cup winners is published in Sphinx.
THE 2019 NATIONAL RALLY will be something really special as it is Armstrong Siddeley's Centenary. The celebrations will commence with a week-long tour starting from Bamburgh on the 8th July to Kenilworth where there will be many special events held over the weekend of 12th to 14th July. The main celebrations will be centered around Coventry and Kenilworth, the home of Armstrong Siddeley. We are hoping to get 100 Armstrong Siddeleys taking part. The centenary events will not be restricted to club members with everyone welcome and further details of the events will appear on this website and in various editions of Sphinx magazine or by contacting Ann Blatchford our events Organiser.
Local Areas
Many local areas organise events, perhaps as a picnic and get together with members from the area, often at a stately home, and usually one or two fun runs, or we will take part in an organised classic car show, where you may well find a club stand. All members are very welcome to join in any of the club events, whether from the local area, or from further afield. There are also regular monthly meetings in several areas, including Southern Area and West Midlands.
International
Members are also made very welcome at events held in other countries, details of which will be covered in the club's monthly magazine, Sphinx, and through the members' log in. German members hold an annual long weekend holiday rally, the Dutch Club hold an annual National Rally, as do the Armstrong Siddeley Car Club in Australia – we do not expect you to take your car to this rally, but you will probably not be the only British member there if you decide to attend.
Forthcoming Events
After logging in, members can see details of forthcoming national, local and international events by going to Members Area and clicking on calendar for upcoming events. News and reports on past events can be found in the News section. Non members should email chair@siddeley.org for details of events.