Cars For Sale
Seeking: 234 Sapphire in good working order. Must be mechanically sound and rust-free. Ideally presentable, but needn't be in show condition. Please call/text Oliver Palmer on 07595 420952.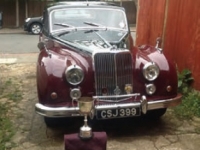 1955 Sapphire 346 Automatic. Unfortunately, the time has come
to part with our beloved car. She was lovingly restored to a high
standard and has been garaged when not in use ever since. The
interior is in good condition and all original. The engine is a good
runner and reliable. She has been a member of the club for a few years now and attended rallies with them. She has also won trophies on a couple of occasions, testament to her condition. We're hoping she'll go to a good home where she'll be maintained and looked after in the manner to which she's become accustomed. Based in North West London. £15,000. Contact Lawrence Chittenden on 07931 807039 for more details and photographs, email: lawrence80@hotmail.co.uk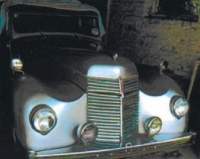 1947 Armstrong Siddeley Silver coloured Typhoon 16 hp upgraded to 18 hp. Upholstery Cream West of England cloth – new dashboard, body off chassis renovation a few years ago. Much work already done but needs TLC. Cherished No. HRO 555. Owned by Michael Hilton since 1964 – can be viewed in West Sussex. Ideal restoration project. Recommissioning the brakes etc. Needs some painting. For quick sale £7,500. Fiona Hilton, 01444 458073, email: flbhilton@gmail.com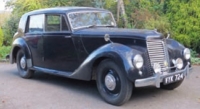 1952 Armstrong Siddeley Whitley, manual. For sale due to recent death of the owner. Refurbishment included a thorough check of the electrical system, a new battery with isolator, completely overhauled brakes with a new master cylinder and shoes. The fuel tank plus many smaller items attended to. The engine starts easily, runs well with good oil pressure. The blue leather interior is in excellent condition as is the chrome (except the rear bumper). New front wish bones and shockers (purchased from the club) are included with other spares. It will need a set of tyres. In very good structural condition, it is well worth seeing, near Ashbourne in South Derbyshire. £6,950. For further information contact Bernard Herd, 01335 344681, herd39@hotmail.co.uk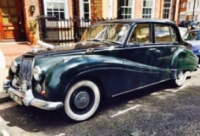 Here we have one of the most luxurious Stars ever built. We all know the Star's build quality is that of a Rolls Royce, but this car is something special. This car has featured in many magazines such as Penthouse, also it is a very well-known car in the high society of London (please google images Armstrong Siddeley 107MP). However, this car comes with a few additional extras e.g. air conditioning, electric windows, full sunroof, picnic tables in the rear, passenger foot rests. This car will be restored to its former glory, in its original colours of green and black with cream interior. We will also include a full 12 months MOT along with a registration that is worth in excess of £5,000. Offers above £28,000 would be considered. This offer is only open to club members at present. Please contact: www.cromerclassiccars.com (where further photos will published in due course). Tel: 01263
510978 or email: cromerclassiccars@gmail.com

1956 White 346 Sapphire Automatic, 334 UXY. New Brakes, Radiator, Re-leathered in Red/Grey, Radials £9,000. Michael Perry, 07979 083631 (Hampshire).
Coming Up For Auction
None known
ASOC Ltd. accepts no responsibility for the description of any vehicle or part of any vehicle advertised on this website.