Cars For Sale
1927 6 cylinder 20hp 2000cc.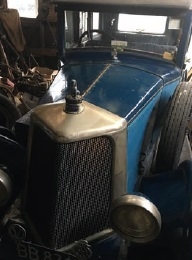 Sedan Rego number BB8265. VIN/Chassis no. 42402 Manual. Has been restored many years ago. Blue leather upholstery. A few rust spots on the body work. Garaged. Motor has not run for a few years. Many parts. A large chip on the front windscreen about 4cm diameter. Deceased estate. Papatoetoe, Auckland, New Zealand. Price $30000NZD or near offer. Contact Josephine Sharpe, 0064220686970.
josephinesharpe01@gmail.com
1929 6 cylinder 20hp, 2900cc.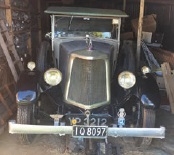 Tourer body. Preselector gearbox. In tidy fairly original condition. Garaged. leather upholstery. Has had a canvas roof put on. Still has the original English number plate YP2312 Rego no. IQ8097. Some surface rust on body VIN/Chassis no. 43576 Many spare parts. Deceased estate. This car is at Papatoetoe, Auckland, New Zealand. Price $30000 or near offer. Phone Josephine Sharpe, 0064220686970. josephinesharpe01@gmail.com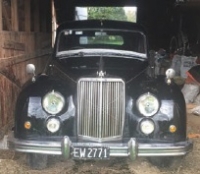 1954 Sapphire Limosine 1954, 3000cc. Preselector gearbox. Was a government vehicle in New Zealand, used to transport the NZ Government General around. No glass petition between back passengers and driver. VIN/Chassis no. PS346367 Engine no. E346433. Leather front seat. Back seat cloth needing a bit of repair. Some surface rust on body. Garaged restoration project. Some spares available. Motor has not run for a few years. This car is at Paparimu, South Auckland, New Zealand. Price $18000 or near offer. Phone Josephine Sharpe, 0064220686970. josephinesharpe01@gmail.com
Sir Malcolm Campbell's 1946 Hurricane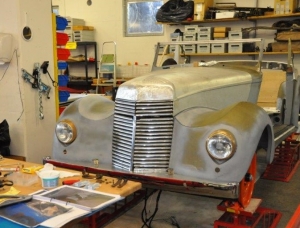 The car is nearing the end of a most comprehensive nut and bolt, chassis up" restoration in Switzerland but cannot be finally finished due to the owners serious health problems. All mechanical parts, chassis and bodywork have been finished regardless of cost with just the final re assembly, painting and trimming still to be done. All metal parts have been professionally repaired and either galvanised, powder coated or chromed. A new wiring loom has been installed in the car.
To find out more about the car which can be shipped privately to UK please contact Claudio on +41 79 447 13 09 (English, German and French spoken) £26,000 ono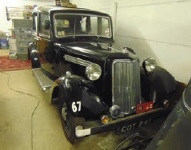 1938 14HP COT845, Chassis Number U1728, pre-select, Perkind 1622cc diesel engine fitted in 1961 when owned by David McNair who was Director of Perkins Engines, some interior repairs required, 18HP engine is available. £5,500 ono. Andy Lane 07989 276713 andysetter60@gmail.com
1935 17 HP saloon Reg HH8094 Chassis 68977 Engine No 4803.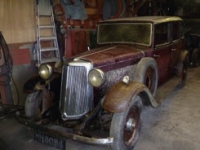 Complete for restoration. Very original car, virtually untouched since early 60s. Dry stored, has had woodworm treated. Will need new glass. All tyres hold air. Engine was running a couple of years ago and car moved in gear and stopped. I have acquired some parts ready for restoration that will go with the car i.e. perfect original Sphinx mascot, lights, carburettor etc. V5C present. £8,250 ono. Call me for all details.
Derek Cox. 01934834718, derekcox1953@hotmail.co.uk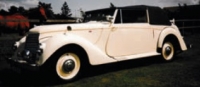 1951 18hp Hurricane MGW 470, Old-english-white with new red leather seats, new hood everything re-chromed and overdrive tted. Over a number of years we have toured extensively throughout the UK, Isle-of-Man and Ireland, but at 86 years old I am afraid it has got too much for me. £15,000. Ken Dodd 01638 663786.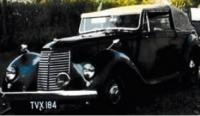 1952 18hp Hurricane TVX 184, black with original brown seats, has a new hood and nearly all new chrome. For Sale at £8,000. All enquiries to Ken Dodd 01638 663786.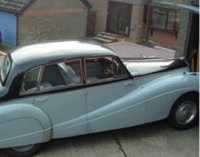 1954 Sapphire 346 Synchromesh gearbox. 535 OYE, Exported new to New Zealand now returned to UK 2013. All service records since 2002 when engine overhauled. Some spares, would benefit from a little TLC. £6,250. Ian Gordon 01983 864996 or iangordon391@gmail.com
Coming Up For Auction
None known
ASOC Ltd. accepts no responsibility for the description of any vehicle or part of any vehicle advertised on this website.