Welcome to the Armstrong Siddeley Owners Club
2019 marks the centenary of Armstrong Siddeley car production.
Celebration events will be held throughout the year. The highlight was the largest gathering of Armstrong Siddeley cars for decades in Coventry on July 14th; 103 in total. You can find out more about the event on our news page.
Car Of The Month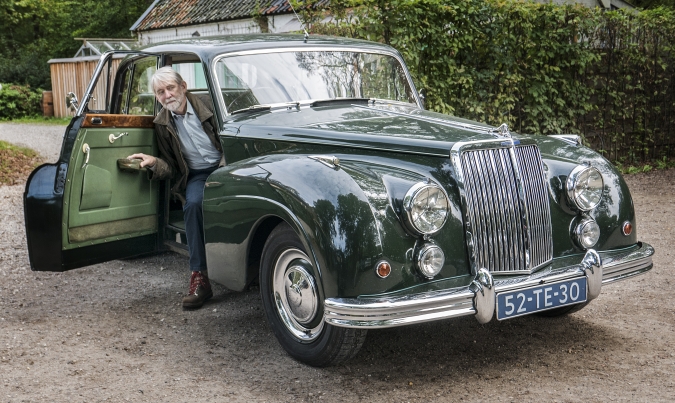 1955 346 Sapphire MkII Auto
This Sapphire MKII auto, original reg. number UTV 563, started life in 1955 with a Mrs Constance Prior, married to Mr Ben England, general manager of Nottingham Public Transport. It got bucket seats mounted two inches backwards and an extra two inches lower cushion, obviously to deal with the length of Mr. England. In 1970 it was sold to its next custodian who won several prizes with this car. In 1976 a Dutch owner bought the car at an auction by Christie's in the Netherlands. Subsequently, the car only covered an incredible 237 miles over the next ten years. In 1986 the car changed hands again. The new owner carried out a lot of work on the engine which he had revised twice, since the first revision didn't comply with his expectations. He converted it into a twin carburetor type using Star parts, which didn't really add to the fuel economy but it runs perfectly. He traveled all over Europe as far as eastern Poland and John O'Groats. Actually being a dedicated Rover P4 owner (the same car from 1970 on) I didn't plan to get hold of an Armstrong Siddeley. But when I learned that the previous owner was in his last days and being astonished by the excellent condition of this unrestored car, I decided to take care of it for the years to come. I received most comprehensive documentation, including Mr England's correspondence with AS and Rolls Royce concerning repairs and hupcaps lost. In the meantime I have the instrument panel brought back to its original lustre, replaced the pot scrubber air filters by washable K&S cotton filters, got the jerk-a-matic decently shifting and added a SU electric fuel pump near the petrol tank in order to have an instant starter after a few weeks rest. I further replaced the noisy stainless steel exhaust system with a system from the stores, well made but still not as silent as I would like. Still some interesting work to do. Pieter Meester, Netherlands
The Club
The club aims to make owning or being interested in Armstrong Siddeley Motors' products, social and engineering history a more enjoyable and rewarding experience. It does this by providing:
Social events
Including car rallies, visits to places of interest and social gatherings. Our flagship event is our annual National Rally & Family Weekend each July. Local area representatives support our UK events. Our members in The Netherlands and Germany regularly organise events in their countries. Our sister clubs, the Armstrong Siddeley Car Club of Australia and the Armstrong Siddeley Car Club of New Zealand, run full programs of events in their countries and are always pleased to see ASOC members attending
Club Magazine
We publish 11 magazines a year, in full colour, known as the Sphinx. These are sent out every month except January by post to all members. A variety of articles are included plus classified adds for members free of charge and commercial advertisements from relevant suppliers. To read the current edition of Sphinx, club members can click on 'Members Home' in the "Your Account" box on this page and then select Sphinx from the "Downloads" box and happy reading.
Spare Parts
We hold the most extensive range of spare parts for Armstrong Siddeley vehicles in the world, having bought the entire stock of the original company. We have an extensive re-manufacturing programme in conjunction with our sister clubs sourcing new stock where available and commissioning refurbishment of items as required in addition to stocking a large quantity of original factory stock and used parts. From time to time the Stores also has knowledge of complete cars for sale as restoration projects. Our stores are located near Bradford-on-Avon and is open every Monday and Tuesday with a full-time stores manager in attendance. For convenience orders can be placed by phone or email and are dispatched promptly.
Technical expertise and support
We hold extensive records of Armstrong Siddeley cars, including build records and parts technical drawings, in addition to a library of general Armstrong Siddeley literature. We also provide model specialist technical helplines for virtually all models to help ensure your car runs smoothly or to provide support for your restoration project.
Car database
Our Membership Secretary holds extensive records of individual Armstrong Siddeley cars and can assist members in tracing the history of their car or in securing its original registration. Information on original specification, delivery date etc. is also frequently available.
Merchandising
The club has extensive merchandise including clothing, literature, badges, and accessories. These are dispatched to order by post.
Armstrong Siddeley and its associated logos are the registered trademarks of the Armstrong Siddeley Owners Club Ltd.