Welcome to the Armstrong Siddeley Owners Club
Car Of The Month
1933 20hp Burlington Sport Special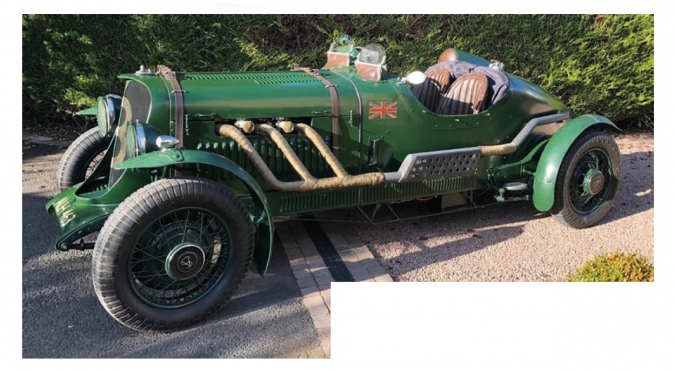 The chassis for this 20hp was laid down by works on 31st May 1933 and was one of only 4 with saloon sports body by Burlington. Agents Warwick Wright took delivery on 14th July 1933 and it sold on 31st December 1933 to Major Sir George Aylwen (who collected the car from the factory on 12th July 1933, Guarantee number 1332) Major G Aylwen became Lord Mayor of London in 1948.
The car was used in the RAC Hastings rally in March 1934. In 1986 it was dismantled and restoration started. Good works were done to the chassis and engine before the restoration stalled for years. The car changed hands a few times until 2013 when it was bought by current owner. The original body was too far damaged to be restored and was subsequently lost so the decision was made to recreate a LeMans/Brooklands style racing body to reflect the age and aeronautic association of Armstrong Siddeley. Many original parts were fortunately retained from the original body for the details. All aluminium body was painstakingly built to plans by Brooklands Bodycraft of Oxford and later additions by Vintage Wings and Radiators of Manchester.
The Armstrong Siddeley Sports Special is roomy for the driver with plenty of leg space and elbow
width. The exhaust note is superb and as sporty as the car looks. The long stroke 6 cylinder 3190cc engine is very robust and will cruise at 60 to 70 very happily. It is capable of going faster than that! The brakes are good and original. The Wilson gearbox works well and is a joy to use.
The Club
The club aims to make owning or being interested in Armstrong Siddeley Motors' products, social and engineering history a more enjoyable and rewarding experience. It does this by providing:
Social events
Including car rallies, visits to places of interest and social gatherings. Our flagship event is our annual National Rally & Family Weekend each July. Local area representatives support our UK events. Our members in The Netherlands and Germany regularly organise events in their countries. Our sister clubs, the Armstrong Siddeley Car Club of Australia and the Armstrong Siddeley Car Club of New Zealand, run full programs of events in their countries and are always pleased to see ASOC members attending
Club Magazine
We publish 11 magazines a year, in full colour, known as the Sphinx. These are sent out every month except January by post to all members. A variety of articles are included plus classified adds for members free of charge and commercial advertisements from relevant suppliers. To read the current edition of Sphinx, club members can click on 'Members Home' in the "Your Account" box on this page and then select Sphinx from the "Downloads" box and happy reading.
Spare Parts
We hold the most extensive range of spare parts for Armstrong Siddeley vehicles in the world, having bought the entire stock of the original company. We have an extensive re-manufacturing programme in conjunction with our sister clubs sourcing new stock where available and commissioning refurbishment of items as required in addition to stocking a large quantity of original factory stock and used parts. From time to time the Stores also has knowledge of complete cars for sale as restoration projects. Our stores are located near Bradford-on-Avon and is open every Monday and Tuesday with a full-time stores manager in attendance. For convenience orders can be placed by phone or email and are dispatched promptly.
Technical expertise and support
We hold extensive records of Armstrong Siddeley cars, including build records and parts technical drawings, in addition to a library of general Armstrong Siddeley literature. We also provide model specialist technical helplines for virtually all models to help ensure your car runs smoothly or to provide support for your restoration project.
Car database
Our Membership Secretary holds extensive records of individual Armstrong Siddeley cars and can assist members in tracing the history of their car or in securing its original registration. Information on original specification, delivery date etc. is also frequently available.
Merchandising
The club has extensive merchandise including clothing, literature, badges, and accessories. These are dispatched to order by post.
Armstrong Siddeley and its associated logos are the registered trademarks of the Armstrong Siddeley Owners Club Ltd.