Rare Star Restoration Project Now Available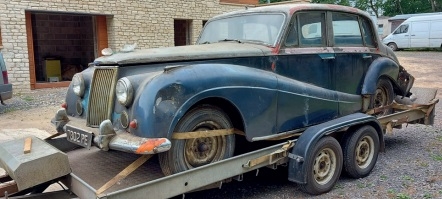 This late Star has been rescued by the club after being with its previous owner for over 40 years. As you can see, it's now in need of restoration, but is a sound car and well worth the effort (with the stores stocking most of the items needed to finish the job!)
The sills have been started, (she comes the option of a pair of replacement sills) and the doors still close well. The boot lid is a tad frilly, but the boot floor appears solid. The nearside rear wing is damaged, but the inner seems to be fine. The original two-tone blue and grey leather interior is still in excellent condition.
Available now from the club stores. Please contact Nick on 07542 685591 or stores@siddeley.org.
Posted in Restoration on the 20th August 2020 at 11:33am.
Shop
Latest Posts
Categories
Archives
Feeds