Central Area Activity Report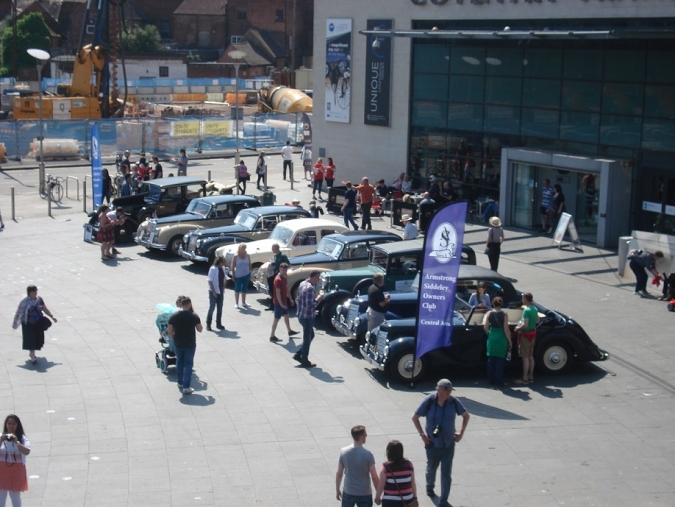 The 4th and 5th June saw the now Annual Coventry Moto Fest take place in the city centre with activities taking place all around the Ring Road, including Time Sprints in cars, Heavy Goods Vehicles and Motorbikes, which was quite a spectacle. The Central Area's Stand was outside the motor Museum's front door in Millennium Place. We had 8 cars on display and had a large number of the public paying us a visit. A good day was had by all members.
Next it was our Monthly gathering on the 22nd of June at the Sparrow, Ansty with 18 people attending what was a lively chat and discussion on future events, whilst enjoying a good meal. The 26th June found us all lined up at the Princethorpe College Classic Car show, once again a good turnout with the weather a little breezy but dry and plenty of unusual cars to peruse. What a great day.
Our first event in July was on the 3rd at Middleton Hall, where a small contingent of our members turned up for their monthly car meet. What a great day, with the sun shining and plenty of interest in our Marque. We also had a bonus of over 41 Rolls-Royces attending, but of course we did not feel out of place.
What a busy weekend the 16th and 17th July was, with our annual trip to the Rainsbrook Valley Railway near Rugby and the ASOC AGM and National Day. Another lovely weekend weather-wise, with the sun beating down on both days at both locations. The railway trip started with a picnic upon arrival and then we all enjoyed our rides on the trains throughout the afternoon. We were joined by our friends from the TSSC Club for a very enjoyable afternoon. The following day we were all up early for our trip to the ASOC National Day at Himley Hall near Dudley, where five of our members attended. A great day was had by all, meeting and talking to fellow ASOC members from all over the country. Prize giving was good, although the Central Area did not manage to win this year.
Finally we had our July gathering on the 27th at the Nouka Restaurant, Castle Vale, Brirmingham, with 14 attending and enjoying excellent Indian cuisine. A good social night was had by all.
Maurice Smith
Posted in Events on the 5th August 2016 at 3:01pm.
Tags: Central
Shop
Latest Posts
Categories
Archives
Feeds