A brief history of Armstrong Siddeley cars, Part 1
Armstrong Siddeley cars were made from 1919 until 1960. They are generally thought of as being interesting, perhaps a little staid, of good quality - and didn't they have unusual gear boxes? The truth is endlessly fascinating, a story of a car company that was often at the cutting edge of automotive technology. There are not so many of the cars left now, but they still cut a dash on the open road or on display at car shows. For their owners the chief pleasure is derived from driving a well engineered, comfortable and individual automobile.
How Armstrong Siddeley came into existence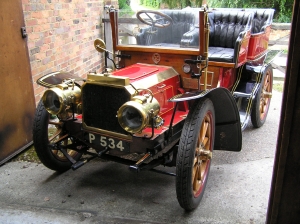 The founder of the company was John Davenport Siddeley, born in 1866. As an adult in late Victorian times he was a keen cyclist working for the Humber Cycle Company. He worked as a draughtsman but also managed their racing department. In 1893 he joined the Pneumatic Tyre company, which 5 years later became the Dunlop Tyre Company, which was when Siddeley left and set up the rival Clipper Tyre Company (now the Continental Tyre Company).
Siddeley was at heart an engineering entrepreneur, and realised that a good product was not enough by itself, it needed promoting in the public eye. In 1898 he arranged for a well known racing cyclist to ride a Humber bicycle fitted with Clipper tyres from Lands End to John O'Groats and ensured that the run achieved maximum publicity. When he started making car tyres he arranged for two British made Daimlers on Clipper tyres to enter a 1000 mile reliability trial. He drove one of them and the Hon. John Scott Montagu drove the other, and Siddeley's car completed the entire event without any punctures. This was excellent publicity, and would certainly have drawn the attention of the other entrants that included C.S.Rolls and S.F Edge. This event turned John Siddeley into an enthusiastic motorist. In 1901 he won a trophy driving a Daimler in the Spion Kop Hill Climb, but more importantly he realised the enormous commercial potential of car manufacturing. So in 1902 he started Siddeley Autocars, importing Peugeot mechanical parts and clothing them in his own British built car bodies. By 1904 he was designing his own mechanical components, which were made by the Wolseley Tool and Motor Car Company Ltd and assembled by Vickers Son and Maxim in Crayford, and these Siddeley Autocars really marked the beginning of a great car maker.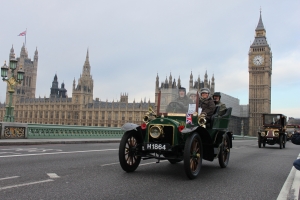 In 1905 Siddeley Autocars amalgamated with Wolseley to form the Wolseley Siddeley marque. John Siddeley was the sales manager and Herbert Austin was the works manager. The merger was not entirely smooth, Wolseley cars used horizontal engines, whereas Siddeley cars had vertical engines. Herbert Austin resigned in 1906 (and is thought to have later started his own car company), and Siddeley took over as works manager. Two years later he resigned from Wolseley and joined the Deasy Motor Car Manufacturing Company. Ironically Wolseley initially retained Siddeley's name, while he worked for the Deasy company from which Captain Deasy had already resigned. During this period some Deasy cars were marketed as JDS-Type Deasys, but after some legal wrangling Wolseley dropped Siddeley's name, which he promptly added to Deasy to make Siddeley-Deasy cars. A wide range of cars was produced during this period with design influences drawn from Wolseley and Deasy as well as from Siddeley's hand. Likewise engines were sourced from various makers. In 1912 a journalist reviewed a Siddeley-Deasy fitted with a Silent Knight sleeve valve engine, describing it as being "as silent and inscrutable as the sphinx". John Siddeley liked the phrase and adopted the sphinx as both mascot and logo for his cars from then on. The sphinx mascot was nothing if not active, initially portrayed sitting down until around 1931 when it was produced lying down. After the second world war the sphinx was first produced in a stylised Art Deco form, but in1952 it sprouted winglets with 2 miniature Sapphire jet engines on the car of the same name, before finally reverting to its lying down position on the last Armstrong Siddeley model produced, the Star Sapphire.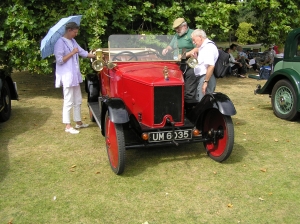 Although the early model range lacked uniformity it was united with an aura of quality which Siddeley continually strived to achieve. In 1912 he decided to enter the market for more economical vehicles, but rather than risk reducing the reputation of the Siddeley name he called these vehicles Stoneleighs. This turned out to be a wise move as Stoneleigh cars and commercial vehicles were never particularly successful, and the last Stoneleigh produced, a 9hp light car was soundly beaten in the market place by Herbert Austin's 7hp car. There are no known surviving Stoneleigh commercial vehicles and only three of the 9hp cars known to exist.
During WW1 Siddeley- Deasy turned largely to the production of air frames and aero engines. The workforce increased tenfold from 500 to 5000 and from then on avionics were the mainstay of John Siddeley's companies, with his name living on today while there are still Hawker-Siddeleys flying.