Christmas Starts Early in South Midlands Area
Saturday 8th December got the ASOC Christmas celebrations off to a great start with the South Midlands area Christmas lunch. This year it was held at a lovely old pub in the small village of Yatton Keynell near Castle Combe in Wiltshire.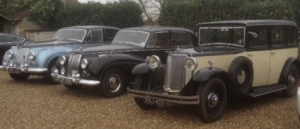 Around 20 members and friends enjoyed a super traditional Christmas lunch with a difference in that for pudding the menu offered the normal Christmas pud or, as an alternative, a mystery dessert. Only a few people chose the mystery desert but they might have won as it turned out to be a delicious lemon meringue roulade with ice cream.
At the end of the meal Ian Leighton-Boyce outlined some of the events planned for next year, Peter Pearson thanked Ian and Paul for organising so many different events this year and Ann spoke about next year's Centenary celebrations and sold several of the special Centenary calendars.
There were several AS cars in the car park including two Stars, a 20hp and also a "guest" Hodgkiss.
A great day to finish off the year's events.
Posted in Events on the 10th December 2018 at 2:09pm.
Tags: Christmas, South Midlands
Shop
Latest Posts
Categories
Archives
Feeds