National Weekend 2017 Report
Several members have been heard commenting on what a good weekend they had, but perhaps this was down to the very fine weather we had, dry and pleasantly warm, with a good amount of sun – quite a rarity this summer.
We started with a day at Crich Tramway Museum. Anyone who came in a classic car parked inside the museum and became part of the tourist attraction. The interest from the public was non-stop and many photos were taken of the cars and their owners. Perhaps one of the best sights was the array of Hurricanes including two from overseas – those of Wim van Herwegan (Belgium) and Siepko Trip (The Netherlands). We also had the Hurricane of Graham & Janet Astley, recently returned from a grand tour of Belgium, Holland and Germany (for the GAST tour) with the fourth belonging to David Welch. Perhaps it is the fresh air with the top down that inspires the owners to make these long drives.
Sunday at the National Trust property, Kedleston Hall, saw the cars all lined up just in front of the public car park for all to see, so again we had constant interest from members of the public. There was an impressive number of pre-war cars this year and the standard of entries for judging was very high, so much so that judging was more intense this year, especially when it came to awarding the master class and Best on the Field trophies. It was also good to see an unusually high number of 'other classics', including a Scimitar, a Vanden Plas Princess, a Rover P5 and a couple of Jaguars. It was nice to have the club marquee in use again and we also had a variety of spares for sale as well as some pre-ordered parts which were brought up for members. Thanks to Nick Bale for bringing his modern car, loaded to the gunnels and towing the marquee in the trailer up from his home in Devon.
If determination was needed to get to Derby, then look no further than Tony Chittenden from North London. Having set off early afternoon, he found himself no further than Hemel Hempstead after three hours, so went home again. He then tried again, leaving home at midnight and arriving at the hotel at three in the morning. Give that man a prize!
Ann Blatchford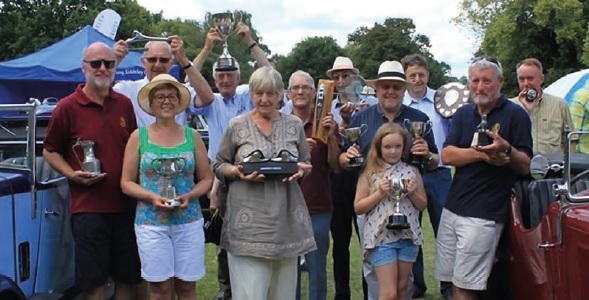 Posted in National on the 22nd August 2017 at 10:45am.
Shop
Latest Posts
Categories
Archives
Feeds