The 150th Birthday Celebrations of John D Siddeley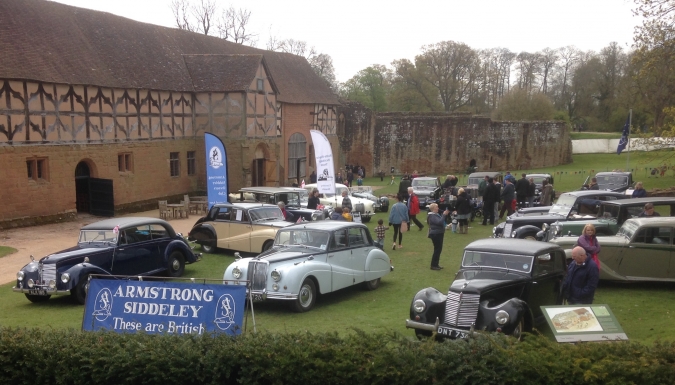 Lord Kenilworth was the guest of honour at the celebrations organised by our central area to mark the 150th birthday anniversary of John Davenport Siddeley, the founder of Armstrong Siddeley Motors.
The event was held over the bank holiday weekend of 1st and 2nd May at Kenilworth Castle, one of J D Siddeley's homes. Maurice Smith and his team spent the Saturday setting up for the Sunday and Monday and on Sunday morning everything was in position for the opening of Horsepower Through the Ages Event, with 13 Siddeleys on show plus several other club members' cars making 17 vehicles in all.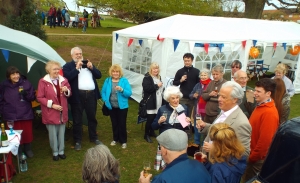 With the weather a little overcast the show got underway with lots of interest from the public not only in the cars but also in our 150th birthday celebration display and memorabilia of John Davenport Siddeley. The highlight of the day was when our guests of honour Randle Siddeley, the present Lord Kenilworth and great grandson to John, his mother Jacqueline the Dowager, and his son William the next Lord Kenilworth arrived to help us celebrate with a Champagne toast given by our President Derek Ainscow (John Siddeley's Grandson). They all enjoyed a chat with all the club members and were delighted that we had invited them to the celebrations, and after some time they departed for a late family lunch.
After we closed, we all met up for an enjoyable evening meal, drinks and lots of chit chat at the Queen and Castle pub opposite the Castle. On the Monday we only had 11 Siddeleys plus 3 others for the display. The day was blustery and rather cold but there was plenty of interest shown by the general public. The rain eventually dampened down the show in the afternoon, which closed at around 5pm.
Despite the weather a great weekend was enjoyed by all who attended, and once again the Armstrong Siddeley Marque was on public display
Many thanks must go to Maurice and his team and to all members who attended and helped on both days.
Posted in Events on the 10th May 2016 at 2:21pm.
Shop
Latest Posts
Categories
Archives
Feeds