2015 National Rally - A Weekend To Remember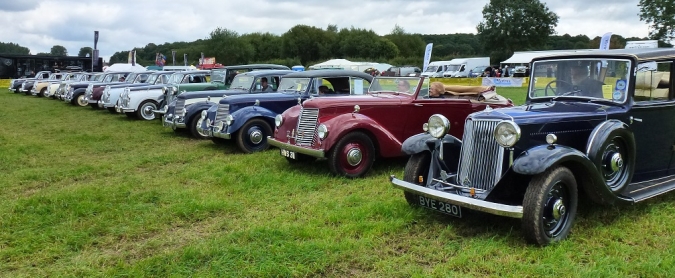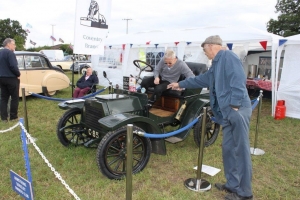 The weekend of the 5th September was passed most agreeably for Armstrong Siddeley owners and thousands of visitors to the Shackerstone Family Festival in rural Leicestershire, the highlight of course being the collection of around 20 stunning AS cars.
The two-day festival included a whole host of attractions in the main arena, including events as diverse as pig racing and stunt-bike action. Meanwile, the showground was packed with a wide range of ways to part with your money - everything from garage stalls, leatherwear, tombolas and gifts to fairground rides, donkey rides (they didn't have one in my size!), zorbing and go-karts. You could even sign up to a local dentist.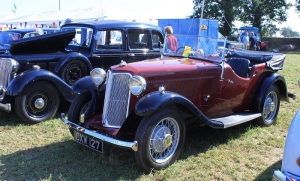 For those with a more mechanical interest, lawnmower racing displays, vintage tractors and steam traction engines graced the main arena, whilst a diverse range of classic cars gathered in the showground. Once again, the range was impressive running from a pretty collection of MGs all the way to Daimlers, a Jaguar SS, a bright orange Capri and a highly unusual Morris ISIS woody.
Outside the showground, visitors could walk along the canal to investigate the barges moored along the towpath to the Battlefield Line railway station and another fix of steam motive power.
The merry band of Siddeley owners was exceptionally well looked after by Maurice and Hazel, with a continuous supply of coffee, tea and biscuits in our exclusive ASOC hospitality tent. On arrival, the cars were lined up so that visitors could inspect the cars ahead of our trip into the arena. This gave us time to track down the all-important bacon sandwich, engage in bargain hunting and chat with other Siddeley fanatics.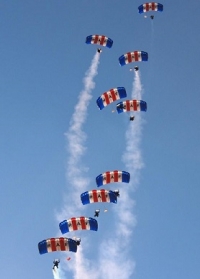 After the synchronised parachute jump (a display team, not the Siddeley owners!) and dog handling displays it was our turn to grace the arena with a circuit of the perimeter followed by a line-up of our cars and interviews with the owners over the PA system. This generated much interest in the cars and a flurry of visitors to the Armstrong Siddeley zone once we had returned to our display area.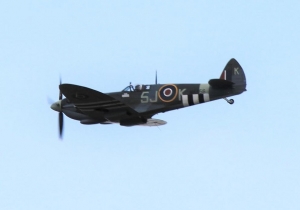 A fly-past of a Spitfire and quad-bike aerial acrobatics rounded off Saturday before the excitement of the judging on Sunday.
Another glorious day presented itself as ordered and a slightly modified range of cars returned for the second day. Judging got underway and nervous owners waited with baited breath for the result, which are listed below. Congratulations to all the winners!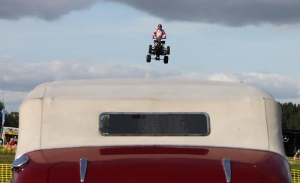 Thanks must go not only to all the organisers of the event who did an outstanding job arranging everything after the cancellation of the Coventry Motoring Festival, directing everyone on site and answering everyone's queries but also to all the members who brought out their beautiful cars and made the event so enjoyable. I'm looking forward to next year's event, and I hope you are too!
Andy West
Judging Results
| | | | |
| --- | --- | --- | --- |
| Cup/Trophy | Class | Name | Car |
| Star Trophy | Star Sapphire | John & Jos. Kaberry | RGW 693 |
| Lee Bapty Trophy | Sapphire 346 | Adrian & Liz Sayers | PFJ 698 |
| Swainson Trophy | Postwar 16/18 | Lionel Hudspith | GAX 902 '47 Hurricane |
| Patterson Trophy | Prewar over 2.5 | Tony Hughes | AUL 32 '33 20hp |
| Parkside Cup | Prewar under 2.5 | Jim & Lynn Ferguson | CXW 127 '36 12hp tourer |
| Blackburn Trophy | Prewar Master | Maurice & Ann Smith | BYE 280 '35 20hp |
| Darley Shield | Postwar Master | Dennis & Sheila Pickering | RNE 312 346 mkII |
| Baxendale Cup | Best Overall Prewar Car | Maurice & Ann Smith | BYE 280 '35 20hp |
| Selwyn Sharp Plate | Best Overall Postwar Car | Adrian and Liz Sayers | PFJ 698 Sapphire 346 |
| Geoff Harris Trophy | Members' Choice | Jim and Lynn Ferguson | CXW 127 '36 12hp tourer |
| Bent Spanner Award | Most Improved Car | Shiela Pinner & Family | Work on John's cars, inc. Special |
| Captain Kampf Trophy | Longest Distance Travelled | Dennis & Sheila Pickering | RNE 312 346 mkII 135 Miles |
| Tredwell Trophy | Outstanding Contribution to ASOC | Brian Hayter | Recognition of 9 years as head judge at National |
| John Aird Trophy | Practical Endeavour | Paul Coombs | Continuing overhaul of Stores and storage |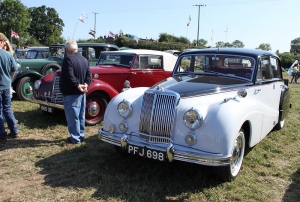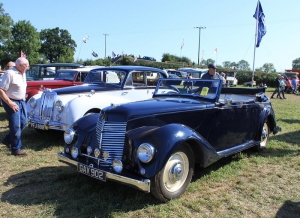 Posted in National on the 8th September 2015 at 10:29am.
Shop
Latest Posts
Categories
Archives
Feeds