Car Of The Month Archive
1952 18hp Whitley CNH 984 - December 2016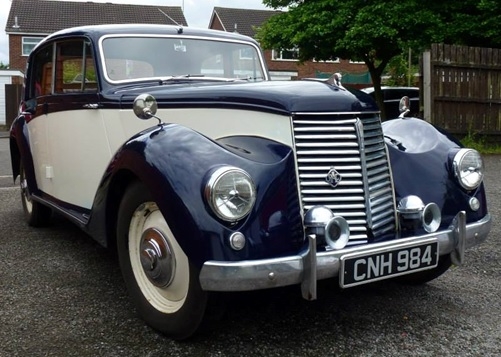 This Whitley was delivered to Hamtune Motors on the 28th of January 1952 and sold to Dr. G. S. Forrester just a week later. Originally black with a maroon interior, the car has gone through a number of colour changes in its life. Its early history is hazy, but it remained in regular use throughout the 1960s moving north from its Midlands origin to the Oldham area. It was sold as a restoration project in 1994 and turned up in a sorry state on ebay in 2006, where it was purchased for the princely sum of just £950.
The previous owner carried out extensive restoration and got the car running and driving again, but poor health meant he couldn't cope with the preselect gearbox. With a heavy heart, he agreed to exchange the now re-sprayed black and white Whitley for a modern automatic. The current owner purchased an automatic sports car as requested, drove it from the Midlands to Yorkshire and drove the Whitley back. This was an interesting first experience of a pre-select gearbox!
Returned to the Midlands, CNH 984 has since had a cosseted life as befitting a 64-year-old car. The interior has been repaired and further improved, the gearbox has been overhauled and the car was treated to a professional re-spray in 2012, changing its colour again to the current dark blue and white. It remains in regular use, transporting its custodian to rallies and events, often to work and occasionally carrying a bride to an important occasion.
1935 20hp saloon BYL 400 - October 2016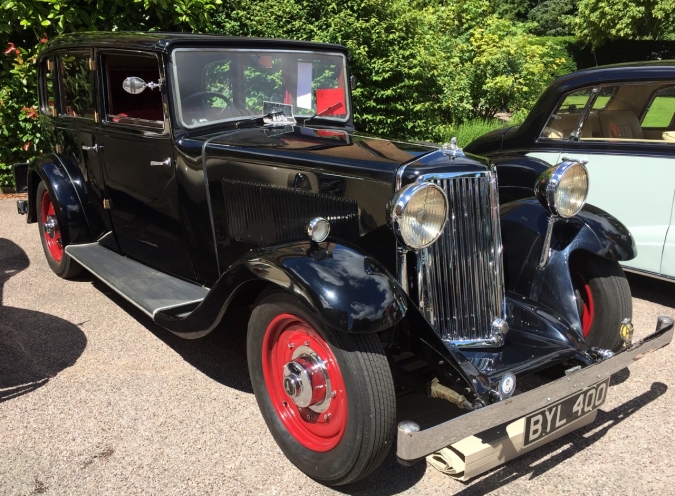 This 20hp saloon was bought new in 1935 by two spinster sisters who adopted a 3 year old little girl named Bridget. Bridget grew up with the car all through her early life and had fond memories of outings in it. When the sisters died the car was bequeathed to Bridget and her farmer husband. The car was lovingly called Old Bill but regrettably it had been laid up for a number of years and despite Bridget's desire to have it restored and have a ride in it to bring back her childhood memories, this never happened. The car passed through a further two farmer owners in Gloucestershire but neither could find the time to restore it and it remained in store in various chicken sheds and barns. Finally Old Bill was put up for sale and purchased by an enthusiastic club member who has spent many hours bringing it back to its former glory and it was shown for its first post restoration appearance at this years National rally. What a pity that Bridget is no longer with us to see how great the car looks now and have a ride in it.
1952 Station Coupe - September 2016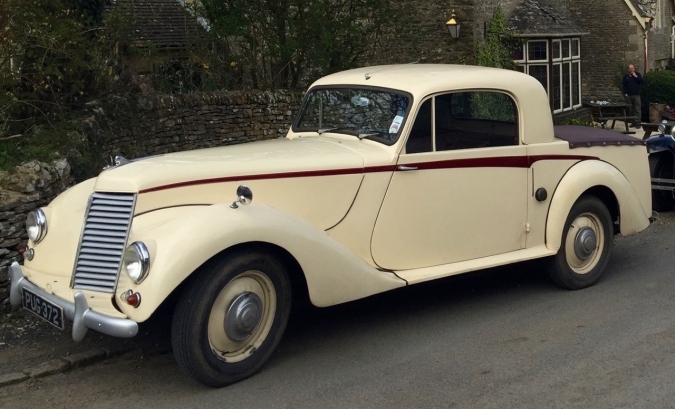 In 1949 and at the request of Australian dealers, Armstrong Siddeley made an unusual departure from their normal luxury car production and launched two utility "pick up" models based on their Whitley saloon. The Station Coupe had a 5/6 seat double cab and the Utility Coupe had just a front bench seat cab with a larger load carrying capacity. They both had the standard 2.3 litre Whitley engine and most had manual gearboxes but a few had the optional preselect box. However the cabs were somewhat spartan compared to the saloons. Over the three year production run just over 1700 pickups were manufactured with most being exported and 60% going to Australia where they are called "Utes"
This particular Station Coupe, registered in Leeds in September 1952, was one of the last produced and remained in the UK, being used by an Armstrong Siddeley Director. After 37 years of little known history it was fully restored by Barnes Coachworks of Frome in Somerset who owned the car for 16 years. It is currently owned by a club member in Gloucester who has brought it to many club rallies recently where it readily becomes the centre of attraction as it is such a rare vehicle in the UK.
1935 "D back" Standard Chassis 17hp Saloon - August 2016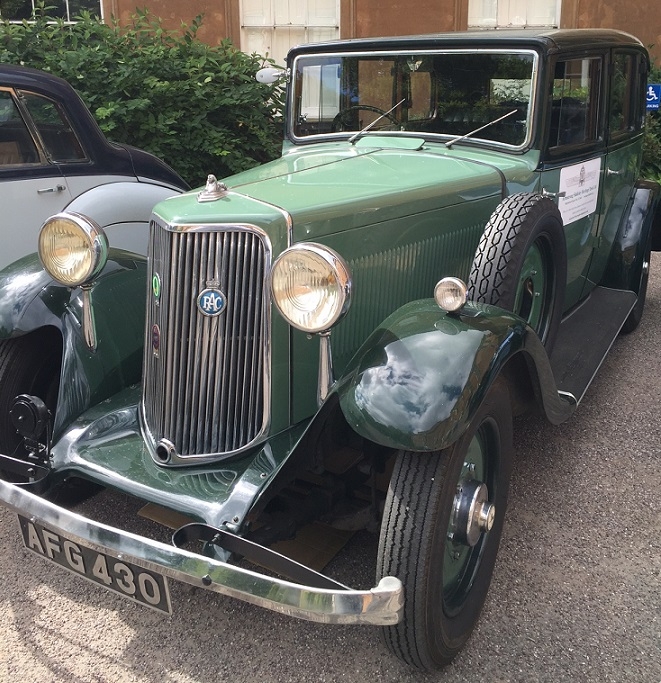 This dignified "D Back" saloon is the work of Armstrong Siddeley Motors and their "in house" body shop Burlington Coachworks. The D Back bodied saloon was available in a range of 12hp to 20hp versions.
On 25th March 1935, Canon Critchley and his daughter travelled from Dunfermline in Scotland to the Parkside works in Coventry to collect this 17hp car fresh off the production line. The car was then destined to be in service with the same family for three generations before, in November 2014, being bequeathed into the care of the Armstrong Siddeley Heritage Trust.
The car is unusual in that it is fitted with Feeny-Johnston special controls for the disabled and it is believed to be the oldest saloon car on the road so fitted. The vehicle is in amazing original condition and the trustees of ASHT are proud to be its current custodians, keeping it well maintained and showing it at events around the country.
1926 14/4 Salmon & C0 Special Coupe - July 2016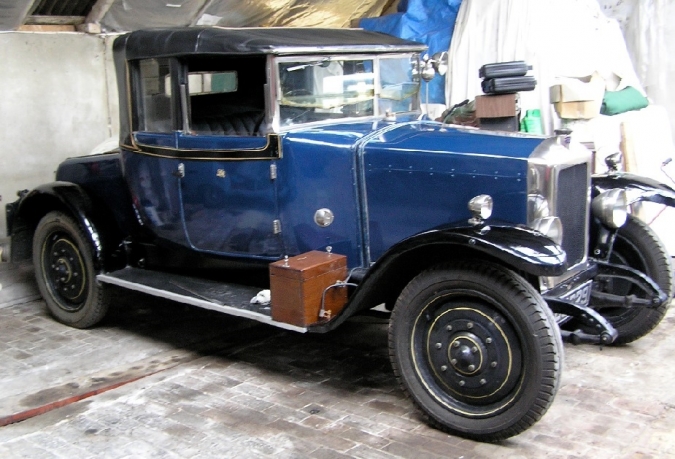 The six year production run of 14/4 models was launched in 1923. The car had a four cylinder, three main bearing, 1852cc engine with overhead valves. Weighing just over 1 ton, the 14/4 had a good power to weight ratio which gave the car a lively performance for its time. There were many body styles available and the car, being a mid-sized family car, proved to be very popular both at home and particularly in Australia. Some 14,500 14/4 cars were produced in both Mark1 and Mark 2 versions but sadly only about 80 are known to survive, many being in the drier areas of Australia.
This particular car, Chassis number 19464, is a bit of a mystery as it does not appear on the factory sales ledger but it was built by Salmons of Newport Pagnall on a chassis supplied by ASM in 1926. It is similar to a Doctors Coupe but it doesn't have the customary locker for the doctors bag. The car was found in Wales in the early 1970's being used as a chicken coup! It was then extensively restored to immaculate condition and was subsequently used regularly until about 1990. It has had several club owners since then but was not used too much. It is currently in the South of England receiving some further restoration, needed by the lack of use, to bring it back to good condition before being used again on rallies. A very pretty motor car.
1929 30HP Mk2 Shooting Brake UL10 - June 2016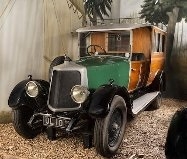 The Armstrong Siddeley marque came into existence in 1919 with the merger of the Sir W G Armstrong Whitworth Engineering Company and the Siddeley-Deasey Motor company and the first model produced under the Armstrong Siddeley name was the 30hp. This was a large limousine-type of car favoured by Royalty and the ruling classes. It had a 5-litre engine with overhead valves much like various American cars of the period. A total of 2725 30hp cars were produced with Mk1, Mk2 and Mk3 versions between 1919 and 1932 with some being exported around the world. This club is currently only aware of some 8 surviving examples worldwide.
The first owner of this particular important car in 1928 was HRH The Duke of York who later became King George VI. The car was purchased for use on the Royal Balmoral estate in Scotland. The Duke was a great fan of Armstrong Siddeley cars having owned several in the twenties. The car was later sold in 1932 but remained on the Balmoral estate. The third owner was Sir Aymer Maxwell, in whose family it stayed from 1936 until 2015 by which time it had been bequeathed to Sir Michael Maxwell, 9th Baronet of Monreith who described its performance as "exhilarating and exciting rather than competitive, but it will hold eight in the back and two up front".
The car was totally refurbished in the 1990s whilst on loan to Neil Corner for use on his grouse moor.
Latterly and for many years this magnificent car was loaned to HM The Queen's Sandringham Motor Museum where it was one of the most popular exhibits. Due to ill health Sir Michael Maxwell decided to sell the car in 2015. The new lucky owner and club member who purchased it lives in USA and it joins his collection of other Armstrong Siddeley cars where it is getting the proper care and attention that this highly important and historic car merits.
1931 Mk2 12hp 2-seat Tourer - May 2016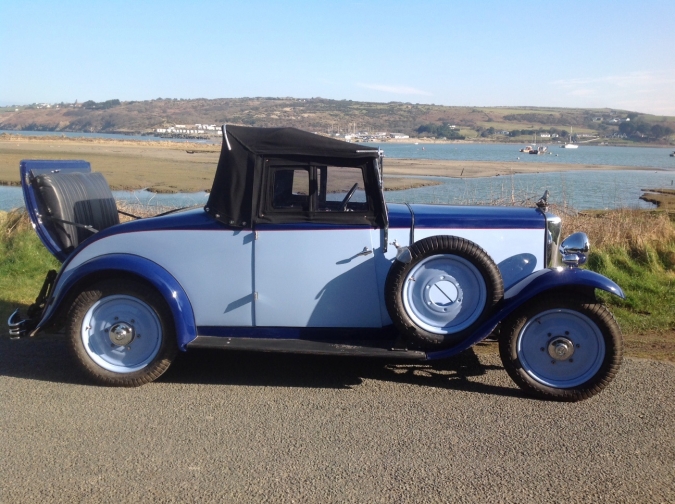 In October 1930, Armstrong Siddeley introduced the Mk2 12hp model and increased its 6 cylinder engine size from 1236cc to 1434cc. This did not effect its RAC rating of 11.9hp. The cars were available in two types; one was "The New 12hp" with four speed pre-select gearbox and a V-radiator shell and the other was "The Economy model" with three speed pre-select gearbox and a flat radiator shell. Around this period, several body styles were available from the factory for 12hp cars together with others from outside Coachbuilders including Salmons, Maltby, Charlsworth and Maddox. Some 7750 Mk2 12hp cars were built between 1930 and 1935.
This particular car was first registered in Jan 1931 and its first owner was Frederick Prance of Basingstoke. He was a solicitor and ex-Mayor of Basingstoke. When he died the car passed to his wife who used the car after the war and eventually sold it in 1957. Interestingly a current club member who lived near to Mrs Prance as a boy remembers the car being driven around the village in the 1940s. The current owner purchased the car in 2014 and, despite some work having been done, after a detailed inspection he realised that it needed a full "back to basics" restoration. He rebuilt the engine, made a new water pump and reconstructed virtually all the ash frame and floors. He made new wiring looms and a walnut veneered dashboard. In fact every part of the car has been meticulously restored to make it the super example it is today and which is used regularly around his home in West Wales.
1934 Short 15hp 6 light coachbuilt saloon - April 2016

15hp cars were built between 1927 and 1934 and were unusual for Armstrong Siddeley in having a side valve engine which was popular at the time. The engines varied in detail throughout the production run but all had a capacity of around 1900cc. Again unusual for AS, the earlier cars had a "flat" radiator grill but with the major redesign in 1931 the normal "V" shaped grill was reinstated. There were two chassis lengths and various body styles with some cars having bodies built by specialist outside coachbuilders such as Malty, Salmons Tickford, and Mulliner. In all some 9458 15hp cars were built with the highest production figures in 1929 when 3653 15hp cars left the factory. The club knows of just 71 cars remaining worldwide but others may still come to light.
This particular model WH5477 was one of the last built, leaving the factory in May 1934, and has only had 11 owners in its 82 years. It is now owned by a club member who bought the car part restored and who has beautifully finished the restoration and returned it to its original condition. The restoration entailed the remanufacture of many parts and a complete engine rebuild. Interestingly, despite spending many years all over the UK, it is now kept just 5 miles from its original 1934 registered address. The current owner has a long history file on the car which contains photos of it being used as a wedding car and also at some point being reclaimed by a former owner having been the subject of a bad debt! A stunning car.
1934 Siddeley Special Vanden Plas Sedanca Coupe - Feb 2016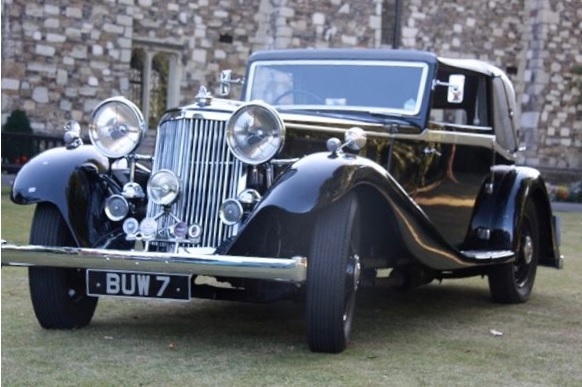 In many ways, Siddeley Special cars represented the pinnacle of pre-war Armstrong Siddeley car production. Just 252 cars were produced between 1933 and 1935 but they were really special and were eagerly purchased by wealthy people wanting an alternative to Rolls Royces, Bentleys Lanchesters and the like. These "specials" were designed by Fred Allard who took three years on the design. All the cars had a powerful 5-litre engine constructed mainly out of lightweight Hiduminium (a type of aluminium) which gave many of the cars 100mph performance. There were various bodies available from several Coachbuilders many of which were very stylishly appointed inside and out. Their desirability is reflected in the high 10% survival rate not experienced by many pre-war cars. Siddeley Specials are described in detail in the comprehensive book Armstrong Siddeley Motors by Bill Smith available via the shop section of this website.
This particularly magnificent car has been owned by two club members over many years who have both maintained it beautifully and it can be seen regularly at club and other events. It's early history is unknown except that it was initially used by ASM Experimental and it has spent some of its life in the West Country and also in Norway! A beautiful and most desirable car in wonderful condition.
1935 Long 20hp Limousine Landaulette - January 2016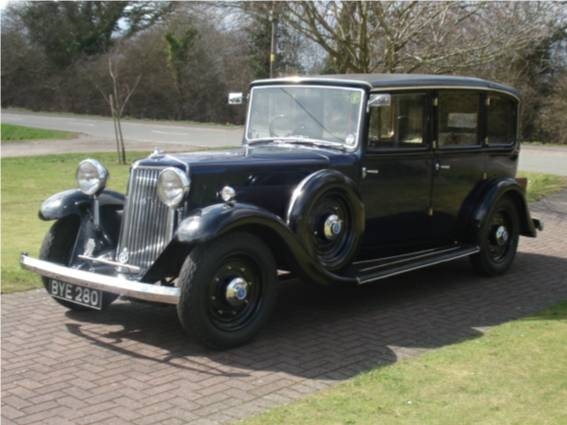 Armstrong Siddeley manufactured "The New" 20hp cars between 1931 and 1936 with either long or short wheelbases and with various body styles from sporty open tourers to large grand limousines. The bodies were manufactured both by their own factory or by several specialist coach builders. The engine was a 6 cylinder overhead valve of 3150cc. and all cars had the Wilson pre-select gearbox. Some 2650 cars were produced and it is thought that about 90 have survived although many are not now roadworthy.
This splendid example was first sold by the Armstrong Siddeley Bond Street showrooms in 1935 to a Mrs Threlfall from Bristol who sold it in 1937 to Dr D. Bedford of Kegworth who kept it chauffeur driven for 32 years until his death when it passed to his chauffeur whose family kept it for a further 30 years! A full restoration was commenced in the late '90s including a bare metal respray and a complete engine rebuild. The car was purchased in 2010 by the current owner showing a genuine 62,132 miles and since then the car has travelled a further 9,000 miles attending events and shows across the country. A most imposing motorcar