Car Of The Month Archive 2017
1936 20/25 Salmons Tickford Cabriolet - July

The short chassis 20/25hp cars were produced in 1936 and 1937 and were an interim design between the 20hp and the later 25hp.
Only 235 short chassis cars were produced but the model was quite an improvement on the 20hp design having a new, larger 3670cc engine and a centrifugal clutch enabling better acceleration with a 0-50 mph time of 15.8 seconds.
This particular superb model was originally sold by Gould Bros to a Miss Caine in October 1936 but then sometime later was exported to Australia where it remained until the late 1990s. It then travelled back to Europe, being purchased by a club member in Germany by which time it had just 51000 miles "on the clock'.
A magnificent motorcar which is used regularly entering the Annual German tour and other events throughout the year.
1935 17hp Salmons Tickford Saloon GD1788 - June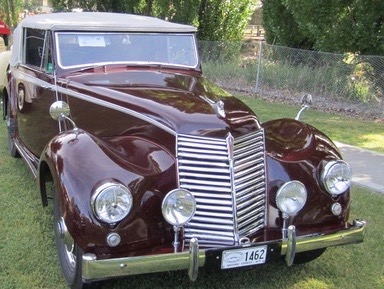 The Armstrong Siddeley factory was very quick to launch new models after the war ended, the first being the drop head Hurricane and the coach built Lancaster. They were of an entirely new design but the 6 cylinder engine and pre select gearbox were developments of the pre war 16hp units. Both models were extremely popular with the result of the factory adding the fixed head Typhoon coupe very soon afterwards.
This particular Hurricane left the factory as a Typhoon but was converted to a Hurricane in the 90's and has many improvements since, including a higher ratio rear axle, an 18hp engine, front suspension improvements, seat belts and electronic ignition. It is used very regularly around its current home in Canberra Australia and is seen at most club events in that part of the world.
1935 17hp Salmons Tickford Saloon GD1788 - March

The 17hp model first appeared in 1934 and was very much a development of the previous 15hp model. However there were several major modifications; notably an all-new 6-cylinder ohv engine replacing the 15hp side valve unit. Also, unlike the 15hp, the new 17hp engine did not form part of the chassis structure and was independently mounted. The 17hp range in both short, standard and long chassis versions and various body styles lasted until 1939 and during the five years about 5100 cars were produced.
This particular splendid example was first registered in Scotland in March 1935, was one of only 20 Tickford all weather saloons produced and it is thought that there is only one other survivor. GD1788 has been in the same ownership since 1973, well over half the car's life, and in that time it has been restored and used regularly at club events and other rallies in South West England. A superb car.
1959 Star Sapphire SUX404 - February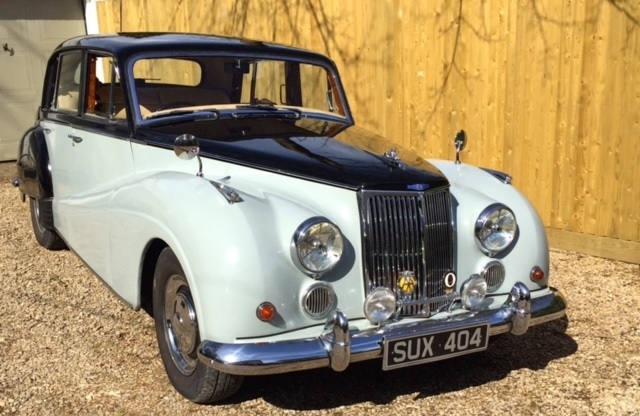 The Star Sapphire was the last model produced by Armstrong Siddeley Motors and roughly 900 left the factory between 1959 and 1960. The "Star" was a development of the immensely popular Sapphire and in fact the prototype was a modified Sapphire. This prototype was driven up and down the newly opened M1 motorway for many weeks to ensure that the modifications had produced a car capable of handling the latest high speed driving (there was no speed limit on motorways in those days). Indeed with its 4-litre engine, power steering, automatic gearbox and disc brakes the designers had truly produced a "Star" that was an excellent motorway cruiser and also, due to its torque at low revs, a docile and yet powerful town car.
These facts have ensured that there is a higher than average percentage of cars still surviving today as the car is well capable of coping with modern traffic conditions. This particular model is currently on its third owner in its 58-year life having had a recent sympathetic restoration. It can be seen regularly at club and other events in the South of England.
1956 Sapphire 346 Hearse - January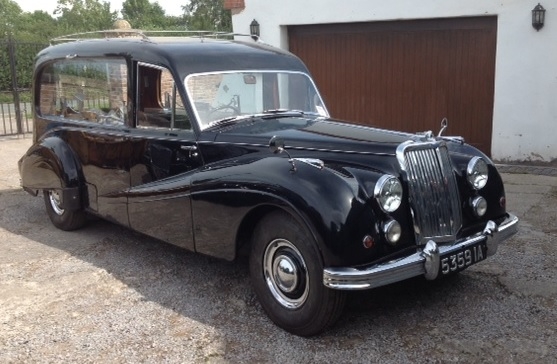 Throughout the 40-odd years that Armstrong Siddeley Cars were in production, the factory supplied many rolling chassis to specialist coach builders who produced various utility bodies such as ambulances, fire engines, special pick-ups, shooting brakes and of course hearses. Many of these vehicles had a hard working life and not many survive. Hearses however usually have had a more sedate life and this club is aware of at least two Sapphire 346 examples that have survived and which have been recently restored. They are both in current use today doing what they were designed to do, one in UK and the other in Australia.
This particular model left the factory in 1956 and started life with a funeral director in Ireland. It was recently tracked down by a club member from Cheshire who wanted an original hearse to join his funeral fleet of Sapphire 346 limousines. He found the car in Ireland in a totally derelict condition but it had only covered less than 30,000 miles. He then set about the mammoth task of a complete chassis-up rebuild. The result is a beautiful car which now forms the flagship of his classic funeral fleet and is in great demand as the final transport for many classic car enthusiasts!